June 2, 2023
By Lou DiPietro and Patricia Waldron
Friends, family, faculty, and staff filled Barton Hall to cheer on members of the newest class to join the ranks of Bowers CIS alumni, as the students traversed the stage at three recognition ceremonies held May 26, by the Cornell Ann S. Bowers College of Computing and Information Science.
More than 1,100 undergraduate, master's, and Ph.D. students received degrees this week, after completing their education in August 2022, December 2022, or May 2023. This year, undergraduates from Cornell Bowers CIS made up about 20% of Cornell's 2023 graduating class.
In her opening remarks at the information science and computer science ceremonies, Kavita Bala, dean of Cornell Bowers CIS, recounted the remarkable history of the college. Bala recalled that 24 years ago, Cornell was a pioneer in creating the faculty of computing and information science, "envisioning multiple fields of the information age together under one banner: computer science, information science, and statistics and data science." She urged the new alumni to take that innovative history with them as they embark on their careers.
"Regardless of where your path takes you — industry, graduate studies, academia, or entrepreneurship — I encourage you to take a page from our college's history by taking risks and looking out for any opportunity to explore uncharted waters," she said.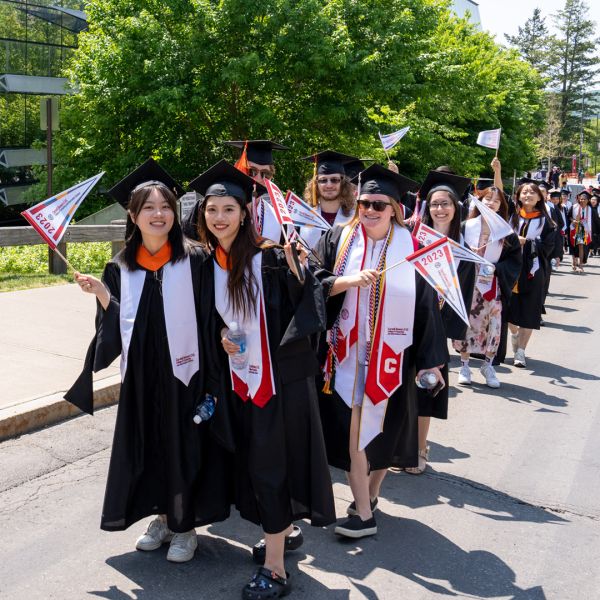 Statistics and Data Science
In his remarks at the Department of Statistics and Data Science ceremony, Martin Wells, the Charles A. Alexander Professor of Statistical Sciences, encouraged the more than 100 graduates in attendance to take what they have learned at Cornell and apply it to have a positive impact on the world.
"As ambassadors of statistical science, your skills will influence how our data-driven society responds to current and future challenges," said Wells. "As you step into the next chapter of your lives, remember to embrace new challenges, continue learning, and pursue your passions…May you revel in your search for clarity, understanding, and truth."
Information Science
"The world really needs you," said David Williamson, chair of information science and professor in the School of Operations Research and Information Engineering, in his remarks. "We need people who can think about the effects of technologies before they get built, rather than after the fact. We need people who think critically about technology to know how it actually works, so that the critique can have a real impact. … I think your choice to major in information science will serve you and all of us very well in the years to come."
Jeff Rzeszotarski, assistant professor of information science, was the faculty speaker selected by the graduating class. With a penchant for big numbers, Rzeszotarski encouraged the roughly 300 information science graduates to consider the estimated 10,000 hours they each put in to earn their diploma – about 2 million hours total.
"I call out these numbers because it's often tempting for students to focus only on the final grades that show up on a transcript," said Rzeszotarski. "While today, we celebrate your graduation and earning your diploma, don't lose sight of all the sheer effort you had to put forth to get to this transition point." 
He characterized information science as a field that examines how technology merges with different aspects of our world – from communication and law to art and social change – to form an interconnected, complex web that shapes society. He urged students to find connections or areas of inquiry in the world to apply their Cornell education.
"Identify where your knowledge transfers in new fields. See unexpected relationships between domains. Find these connection points in the next phase of your life," he said. "These connections will help you solve problems in ways no one else can."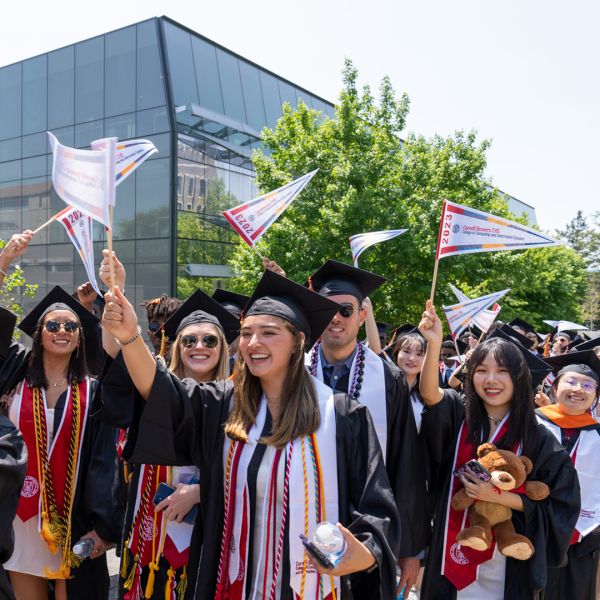 Computer Science
In the last and largest event of the day, the Department of Computer Science recognized more than 700 undergraduate and graduate students, many who were cheered on by supporters with banners, face cutouts, and noisemakers.
Éva Tardos, the Jacob Gould Schurman Professor of Computer Science and department chair, recognized the difficulty of attending college during the COVID-19 pandemic, and congratulated the students on overcoming these challenges.
"I hope you will go after the many great opportunities that our professional industry offers you," said Tardos. "This is a truly exciting time to be a computer scientist." She also urged the graduates to be thoughtful in their career pursuits, taking into account issues of privacy, accountability, and fairness. 
In closing, Tardos encouraged the new graduates to come back and visit and to stay in touch with the faculty. "I hope to personally hear from every one of you what your next adventure is," she said. "All 700 of you!" 
Lou DiPietro and Patricia Waldron are writers for the Cornell Ann S. Bowers College of Computing and Information Science.