May 19, 2023
By Lou DiPietro
Since its first iteration in Spring 2019, the Cornell Information Science student project showcase has blossomed into a can't-miss event at the end of every semester, featuring a panoply of innovation in user experience design and research, robotic prototypes, app design, and much more.
More than 40 student teams gathered in Baker Atrium in the Physical Sciences Building on Thursday, May 11, for the Spring 2023 showcase. They represented three Information Science courses: "Introduction to Rapid Prototyping and Physical Computing," "Qualitative User Research and Design Methods," and "App Design and Prototyping."
Below is a sampling of the projects:
INFO 4320/5321: Introduction to Rapid Prototyping and Physical Computing
Instructor: Cheng Zhang, assistant professor of information science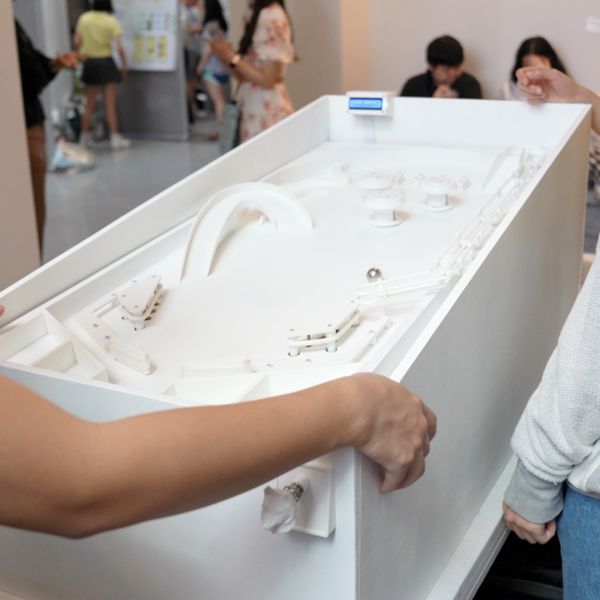 INFO 4320 challenges students to build robotic prototypes using techniques like laser cutting, 3D printing, and microcontroller programming. The final projects do not disappoint. From an M&M Launcher and Piano Painter to a Lego sorter and Beer Pong Robot, students take skills learned in the classroom and mix in creativity and fun to build interactive, working prototypes for classmates to test at the event. This semester, 16 teams presented projects like a watercolor painter, robotic chess game, and a sand mandala generator.
Anchey Peng '24, Luke Murphy '23, and Sarah Shin MPS '23 built a beautiful electronic pinball machine using three ESP 32s – a low-cost microcontroller – and 3D-printed components.
"It's inspired by an old Windows game, Space Cadet Pinball, that I used to play," said Peng, a computer science major.
What's the biggest challenge in building a modern variation of a classic arcade game from scratch?
"Probably the electronics, but the design was also pretty hard too," Peng said. "It was a lot of work just figuring out how to wire everything together. The underside [of the pinball machine] is a pretty big mess."
INFO 4400/5400/6400 COMM 4400: Qualitative User Research and Design Methods
Instructor: Gilly Leshed, senior lecturer in information science
INFO 4400 provides an in-depth understanding of what it takes to research, design, build, and evaluate interactive technologies used by people in their daily lives. Fourteen teams presented posters of their research and prototypes, and course teaching assistants chose two winning posters.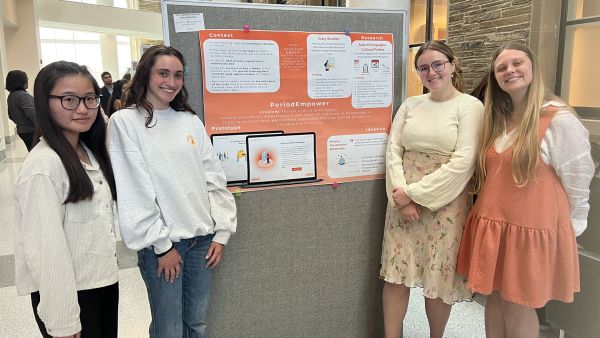 According to one student team, millions use menstruation tracking apps, though there are serious privacy concerns to consider when logging such sensitive data. Alexandra Pultorak, Olivia Rodriguez, Emily Sine, and Jacqueline Woo presented "PeriodEmpower," an educational platform to equip people with knowledge and tools to protect their period data. The team took home the "Social Impact Award."
Another student team sought to help young designers cultivate one of the most crucial qualities of UX designers: empathy. Jane Guo, Yishu Ji, Alexandra Jin, Joy Shen, and Jane Xie co-designed a workshop and study to inform their prototype, "the Empathy Deck," a kind of checklist for designers to increase their awareness of empathy. "Developing Empathy in Young Designers: Enhancing Designer-User Interactions in the HCD Process" won the "Thoughtful Research Award."
INFO 4340/5440: App Design and Prototyping
Instructor: Kyle Harms, lecturer in information science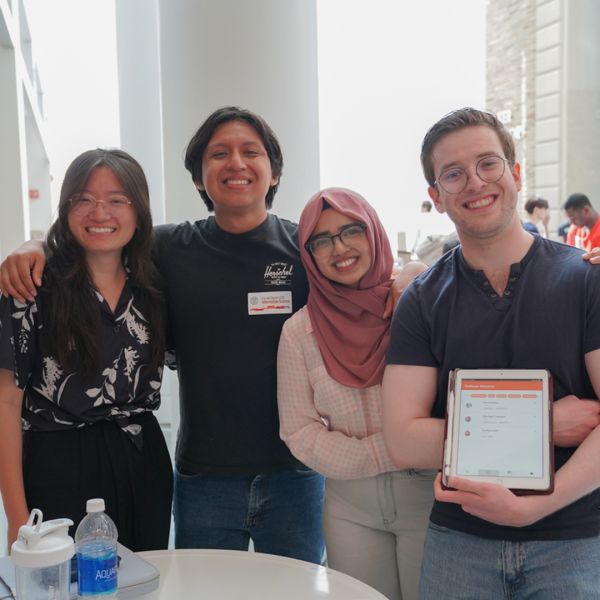 In "App Design and Prototyping," student teams spend the semester building an app prototype for partnering clients like Cornell Cooperative Extension and the College of Human Ecology. This semester, Cornell Ann S. Bowers College of Computing and Information Science was the client. Eleven teams were tasked with building an app for prospective students to use during Ph.D. Visit Day – a multi-day event hosted by each college department in which prospective Ph.D. students meet with department faculty, students, and staff, and get a general sense of the Big Red community.
Team "Bootstrappers" – consisting of Tammy Zhang '24, Dennis Quizhpi '24, Zaeda Amrin '24, and Efrain Muñoz '23 – built an elegant app where users can edit their Visit Day schedules and find faculty who work in specific research areas and relevant labs. In its research, the team said it learned that prospective students would use an app with such features.
"We figured that by creating a really easy-to-use app for these prospective Ph.D. students," said Muñoz, a computer science major, "they will get a better impression of Cornell Bowers CIS and will also be more likely to accept an offer from Cornell."
Lou DiPietro is a writer for the Cornell Ann S. Bowers College of Computing and Information Science.